Grant Schofield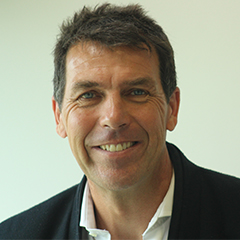 Centre director: Human Potential Centre
Phone: +64 9 921 9169
Email: grant.schofield@aut.ac.nz
Biography:
Grant Schofield is Professor of Public Health, and Director of the Human Potential Centre at AUT Millennium. His research and teaching interests range from understanding and improving lifestyle behaviours such as sleep, nutrition, and physical activity, to wellbeing epidemiology and human performance. He maintains a "multi fluency across psychology, physiology, public health, epidemiology, and human performance.
Professor Schofield takes a "think outside the box" approach to his work in tackling the big health problems of our times. He is known for "challenging current beliefs" in his field. His current project base and large group of talented postgraduate thesis students show an exciting range of these challenges.
Teaching Areas:
Lifestyle Diseases
Physical activity and health promotion
Doctoral supervision
Masters supervision

Research Areas:
LCHF (Low Carbohydrate High Fat)

Health literacy

Wellbeing

Physical activity and nutrition health promotion

Primary care and workplaces as settings to promote healthy lifestyles

Urban design and health, especially physical activity

Reducing sedentary behaviour, physical activity and cognition
Current Research Projects:
Challenging conventional nutritional beliefs though low carb high fat nutrition: This is an exciting set of projects and student theses which looks carefully at basic human metabolic health and what foods support that (or not). We believe it is likely that the low fat diet approaches and lipid hypothesis perpetuated over the least several decades may have caused more harm than good. Our emerging work shows the problems of hyperinsulinemia (chronically high insulin) in the development of chronic diseases. We have several feasibility trials underway in different groups looking at how people respond and adhere to diets which are low in carbohydrate but high in fat. These may have therapeutic outcomes across a range of metabolic issues from overweight to diabetes to cardiovascular disease.
Standing up: We are interested in how changing environmental design in workspaces affects health. We have designed, developed and tested a range of standing office furniture.
Go play: We are interested in how we encourage risky and free range play in children. The benefits of risk and adventure on children's not adults' terms, may be large.
Flourishing and positive health: Our team is in interested in reorienting the NZ health system to be more than a deficit model of fixing sick people. We are pioneering the concept of positive health in NZ. Borrowing and building heavily on the work in positive psychology we have developed the Sovereign Wellbeing Index (see www.mywellbeing.co.nz.) This is a biannual survey looking at what helps New Zealanders' flourish.
Healthy cities: We have a strong interest and several large international projects looking at how urban form affects human health, especially physical activity.