Charlotte Jelleyman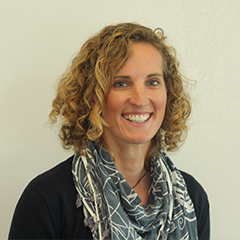 Postdoctoral Research Fellow
Phone: (09) 921 999 ext. 7078
Email: charlotte.jelleyman@aut.ac.nz
Physical Address:
Human Potential Centre
AUT Millennium
17 Antares Place
Auckland 0632
Qualifications:
2007-2010 BSc Sports Science (Outdoor Activities), Bangor University, Wales
2010-2011 MSc Applied Sport and Exercise Physiology, Bangor University, Wales
2013-2017 PhD Thesis entitled: High intensity physical activity for health: can science justify IT? University of Leicester, England
Biography:
I have always been an outdoorsy active person but, never really having been a competitive athlete, my interest lies with investigating and promoting the benefits of exercise for health and well-being, with the ultimate goal of optimising quality of life. After completing my PhD research on high-intensity interval training (HIIT), I moved away from prescriptive exercise and now focus on risky, outdoor play and the benefits of being active in nature.
Having visited New Zealand in 2012-2013 and fallen in love with the country, soon after completing my PhD I moved with my partner to New Zealand in October 2017 to continue my career. When not working I will usually be found at the beach, in the bush or up a mountain!
Teaching Areas:
Outdoor major
Leadership in Sport and the Outdoors
Current Research Projects:
Tāmariki me Te Taiao: A DOC-Toyota Kiwi Guardians collaboration investigating the relationship between exposure to nature and children's development
The State of Play report: Exploring parental attitudes towards risky play and independent mobility
ENcAPPture Your Voice: Students' perceptions on how their campus environment influences their decisions to engage in healthy or unhealthy behaviours.
Publications:
Jelleyman, C., McPhee, J., Brussoni, M., Bundy, A., & Duncan, S. (2019). A cross-sectional description of parental perceptions and practices related to risky play and independent mobility in children: the New Zealand State of Play Survey. Int J Environ Res Pub Health, 16(2): 262
Egli, V., Mackay, L., Jelleyman, C., Ikeda, E., Hopkins, S., & Smith, M. (2019). Social relationships, nature, and traffic: Findings from a child-centred approach to measuring active school travel route perceptions. Children's Geographies, 1-17.
Jelleyman C, Edwardson CL, Henson J, Gray LJ, Rowlands AV, Khunti K, Davies MJ & Yates T (2017). Associations of physical activity intensities with markers of insulin sensitivity. Med Sci Sports & Exerc. 49(12): 2451-8
Jelleyman C, Yates T, O'Donovan G, Gray LJ, King JA, Khunti K & Davies MJ (2015). The effects of high-intensity interval training on glucose regulation and insulin resistance: a meta-analysis. Obesity Reviews. 16(11): 942-61
Jackson MJ, Fatahi F, Alabduljader K, Jelleyman C, Moore J & Kubis HP (2018). Exercise training and weight loss, not always a happy marriage. Applied Physiology Nutrition & Metabolism. 43(4): 363-370
Lawley JS, Oliver SJ, Mullins P, Morris D, Junglee NA, Jelleyman C & Macdonald JH (2012). Optic nerve sheath diameter is not related to high altitude headache: a randomized controlled trial. High Altitude Med Biol. 13(3):193-9