Michael Naylor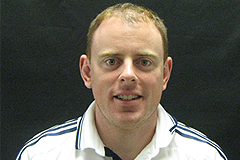 Senior Lecturer, Sport Leadership & Management
SPRINZ Research Group Leader – Sport Leadership & Management
Phone: + 64 9 921 9999 Ext 6627
Email: michael.naylor@aut.ac.nz
Qualifications
PhD (Sport Management) - Florida State University
M.A. (Recreation & Leisure Studies) – University of Waterloo
Memberships
Board of Directors, Sport Management Association of Australia & New Zealand
Editorial Board, Sport Management Education Journal
Board of Directors, Northern Football Federation
Member, North American Society of Sport Management
Biography
Michael was born in Toronto, Canada but has made his home in New Zealand since 2011. He is a passionate fan of the Toronto Maple Leafs, Florida State University Seminoles and Northland Taniwha.
Teaching Areas
Sport Management
Sport Marketing
Research Areas
Sport Marketing
Sport Management
Sport Consumer Behaviour & Psychology
Sponsorship & Ambush Marketing
Participant Sport
Spectator Sport
Research Summary
Michael's research interests span the domains of sport marketing and management. Michael's primary interest is understanding sport participants and fans as consumers.
Current Research Projects
Michael is currently working on a number of sport management research projects involving collaborations around the world and driven by the Masters and PhD students he is supervising.
Topics include:
Segmenting social media users
Sport club membership
Pacific Island perspectives of leadership
Sport celebrity endorsement and social marketing
Major sport events – referenda participation
Motives & constraints in participant sport
Publications
Recent:
Biscaia, R., Hedlund, D. P., Dickson, G. & Naylor, M. (2018) Conceptualising and measuring fan identity using stakeholder theory. European Sport Management Quarterly, 18(10), 459-481. doi:10.1080/1618472.2017.1413580
Behnoosh, S., Naylor, M., & Dickson, G. (2018). The impact of endorsement on a sport-based social marketing campaign. International Journal of Sport Management and Marketing, 18(6), 478-500.
Dickson, G., Naylor, M., & Hedlund, D. (2018) Memorisation of Rugby World Cup Sponsors: The Home team sponsor's advantage. Journal of Global Sport Management, 3(3), 237-249. doi:10.1080/24704067.2018.1432987
Scott, O., Naylor, M. & Bruffy, K. (2017) "Social Media, Fan Engagement and Global Sport" in Critical Issues in Sport Management. Dr. Stephen Frawley & Dr. Nico Schulenkorf (Eds.). University of Technology Sydney. ROUTLEDGE PUBLISHERS.
Luck, M., Dickson, G. & Naylor, M. (2017). Sport-related drinking motives of professional rugby league and rugby union players. New Zealand Journal of Sports Medicine, 44(2).
Naylor, M., Hedlund, D. & Dickson, G. (2017). Team identification full circle: The importance of cognition, evaluation and affect. International Journal of Sport Management, 18(4), 573-592.
Naylor, M., & Havitz, M. (2017). Enduring and situational involvement among hockey enthusiasts. Leisure/Loisir, 41(2), 165-183. doi:10.1080/14927713.2017.1354647
Behnoosh, S., Naylor, M., & Dickson, G. (2017). Promoting sport and physical activity participation: The impact of endorser expertise and recognisability. Managing Sport and Leisure, 22(3), 214-233. doi:10.1080.23750472.2018.1424024
Bruffy, K., Naylor, M. & Johnston, M. (2016). Managing a home court transition: The case of the New Zealand Breakers. Sport Management Review, 19, 227-239. doi:10.1016/j.smr.2015.06.003
Scott, O., Bruffy, K. & Naylor, M. (2015) "The Role of Social Media in Contemporary Sport Organisations" in Contemporary Issues in Sport: An Introduction. Dr. Terri Byers (Ed.): Coventry University Business School. SAGE PUBLISHERS.
Dickson, G, Naylor, M., & Phelps, S. (2015). Consumer attitudes towards ambush marketing. Sport Management Review, 18, 280-290.
Alfaro-Barrantes, P., Hedlund, D. P., M. Naylor & Nguyen, S. (2014). A multi-dimensional study of national and Olympic team identity in the United States and Australia. International Journal of Sport Management, 15(1), 1-24.
Dickson, G. D. & Naylor, M. (2013) "New Zealand" in Comparative Sport Development. Dr. Karen Petry & Dr. Kirstin Hallman (Eds.): German Sport University Cologne. SPRINGER SCIENCE.
Naylor, M., Gordon, B. S & James, J. D. (2012). A societal perspective of sport: Scale development in two settings. Journal of Global Academy of Marketing Science, 2(2), 1-16