Richard Wright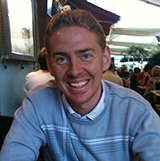 Senior Lecturer – Sport Management
Phone: +64 9 921 9999 ext. 7312
Email: richard.wright@aut.ac.nz
Physical Address:
AF306, AUT North Shore Campus
Memberships
AUT Centre for Active Ageing
AUT New Zealand Tourism Reseach Institute
Australian & New Zealand Association of Leisure Studies
European Assocation of Sport Mangement
Sport Management Association of Australia & New Zealand
Biography:
Dr Wright is a member of the Sports Leadership and Management (SLAM) teaching and research group, specialising in the study of sports tourism, serious leisure and sustainable event legacy development. He teaches the undergraduate students about innovative planning and entrepreneurship, and the postgradautes about sports event management. Richard obtained his PhD (Otago) in 2011, and prior to joining AUT in 2012, was the Programme Leader of the MSc Sports Event Management within the UK Centre of Events Management at Leeds Becketts University. He was the leader of the Graduate Programme in Sport and Exercise from 2015-2018, and continues to publicly promote this programme to industry practitioners and former professional athletes looking to enhance their knowledge of the sport and recreation industry". Richard is an Associate Editor of the International Journal for the Sociology of Leisure, an ambassador for the Generate Network and sits on the steering committee for the AUT Centre for Active Ageing and is a board member of the Australian & New Zealand Association of Leisure Studies, looking after the event portfolios of both organisations. He also sits on the Board of the Auckland Sunday Football Association and has been the Chairman of the North Shore Table Tennis Association since July 2016. In 2018, along with two of his former students, Dr Wright co-founded FindYourFirst.Com, a free online directory for New Zealanders looking to build their social capital through active participation in sport and recreation activity.
Teaching Areas:
Sport Entrepreneurship & Innovative Planning
Advanced Sports Event Management
Research Areas:
Sports Event Legacies
Sports Tourism
Serious Leisure
Project/Problem-based learning
Research Summary:
Dr Wright's inter-disciplinary research interests and activities focus on the consumption, production and evaluation of sports event legacies, and the role of serious leisure within sport, recreation and event tourism, particularly amongst university students and the active ageing (masters) community. Richard is a strong advocate for the use of project and problem-based learning within Higher Education and has also called for a much a greater appreciation/acceptance of creative analytical practice within the study of sport and recreation management, including personal narratives, autoethnography and creative non-fiction. He has presented at over a dozen international sport, event and leisure-focused conferences and had his research published in sport, event, leisure and tourism management journals and textbooks.
Current Research Projects:
Leveraging sports event legacies within the land of the long white cloud: exploring the impact of New Zealand's major event strategy on the international appeal of Aotearoa as a future host of the Olympics
Masters of their universe: exploring the movement and motivations of active aging athletes and participant sports event volunteers from a Serious Leisure perspective.
Publications:
Wright, R. K. (2018)"Doing it for Dot": exploring active ageing sport tourism experiences through the medium of creative analytical practice, Journal of Sport & Tourism, 21(3).
Wright, R. K. (2018) Setting them up to fail: the challenge of employing project-based learning within a higher education environment, Events Management: An International Journal, 22 (1).
Wright, R. K. (2018). Event Bidding, politicsm persuasion and resistance, Annals of Leisure Research, DOI: 10.1080/11745398.2018.1452620
Gammon, S., Ramshaw, G. & Wright, R. K. (2017) Theory in sport tourism: some critical reflections, Journal of Sport & Tourism, 21(2), 69-74.
Wright, R. K. (2015) Case Study: Leveraging of legacy: Stag World Veteran Table Tennis Championships 2014, in R. Dowson & D. Bassett (eds.) 'Event Planning and Management: A practical handbook for PR and event professionals'. London: Kogan-Page.
Wright, R. K. (2018)Leisure, Sport and Tourism, Politics, Policy and Planning,Anthony James Veal, (4th Edition), Sport Management Review. DOI: 10.1016/j.smr.2017.08.010.