Kelly Sheerin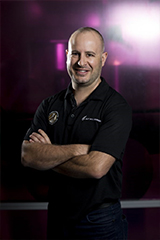 Lecturer
Sports Performance Clinics Manager
J.E. Lindsay Carter Kinanthropometry Lab – Deputy Director
Phone: +64 9 921 9999 ext. 7354
Email: kelly.sheerin@aut.ac.nz
Physical Address:
AUT Millennium
span class="HeliaCore-Medium">Links webpages:

Qualifications:
MHSc (Hons), PGDip (Musculo Physio), BHSc (Physio) BSc (Sports Sci), ISAK 3
Memberships
New Zealand Registered Physiotherapist (NZRP)
Executive Committee Member – Sports Medicine New Zealand - Auckland Branch
Member, International Society for Biomechanics in Sport
Member, International Society for the Advancement of Kinathropometry
Member, Sports Medicine New Zealand
Member, Physiotherapy New Zealand
Biography:
Kelly is a registered Physiotherapist and Biomechanist who is a Lecturer in the School of Sport and Recreation, and also leads the AUT Millennium Sports Performance Clinics. He has a clinical interest and expertise in running injuries and biomechanics. Kelly has a Masters degree in musculoskeletal physiotherapy, including research in 3D running biomechanics.
Teaching Areas:
Running Gait
Injury Prevention
Human Movement and Biomechanics
Anatomy
Anthropometry
Research Areas:
Identification, development, and optimisation of treatment and rehabilitation protocols for runners.
Biomechanical factors related to the treatment and prevention of running injuries.
Sports injury epidemiology.
Sports anthropometry.
Research Summary:
My research focuses on the impact of injury prevention strategies in a wide range of sports. I operate on the interface of the sub-disciplines of injury monitoring, sports biomechanics, anthropometry and motor learning.
Current Research Projects:
Using wearable technology to provide real-time feedback to reduce lower limb loading in runners is one of my key lines of research, along with the monitoring of load metrics in team sports.
Publications:
Sheerin, K. R., Besier, T. F., Reid, D., & Hume, P. A. (2017). The one-week and six-month reliability and variability of three-dimensional tibial acceleration in runners. Sports Biomechanics, 1-10. doi:10.1080/14763141.2017.1371214

Hume, P., Sheerin, K., & de Ridder, J. H. (2017). Non-imaging method: Surface anthropometry. In P. Hume, D. Kerr, & T. Ackland (Eds.), Best practice protocols for physique assessment in sport (pp. 61-71). Singapore: Springer Nature Singapore PTE Ltd.

Lorimer, A., Whatman, C., Mather, F., Wenham, M., Sheerin, K., Steele, H., & Manson, S. (2016). The use of additional laboratory based performance testing in the return-to-play decision; a case study in elite football. New Zealand Journal of Sports Medicine, 43(2), 65-67.

Williams, S., Whatman, C., Hume, P. A., & Sheerin, K. (2012). Kinesio taping in treatment and prevention of sports injuries: A meta-analysis of the evidence for its effectiveness. Sports Medicine, 42(2), 153-164. doi:10.2165/11594960-000000000-00000

Sheerin, K. R., Hume, P. A., & Whatman, C. (2012). Effects of a lower limb functional exercise programme aimed at minimising knee valgus angle on running kinematics in youth athletes. Physical Therapy in Sport, 13(4), 250-254.

Ellery, S., Keogh, J., & Sheerin, K. (2012). Does maximal strength training improve endurance performance in highly trained cyclists: A systematic review. European Journal of Sports and Exercise Science, 1(3), 90-102.