Lisa McDonnell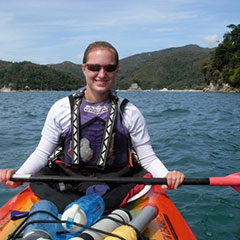 Teaching and Research Technician, Lecturer
Phone: + 64 9 921 9999 ext. 7984
Email: Lisa.Keeley@aut.ac.nz
Physical Address:
AUT University
School of Sport and Recreation
90 Akoranga Drive
Northcote
Auckland

Postal Address:
AUT University
Private Bag 92006
Auckland 1142

Qualifications:
PhD in Biomechanics, Auckland University of Technology, 2013
MS in Biomechanics, Barry University, Florida, USA, 2008
BS in Kinesiology, Humboldt State University, California, USA, 2005
Memberships
International Society of Biomechanics in Sports:
http://www.isbs.org/
Biography:
Lisa is primarily a Teaching & Research Technician for the School of Sport and Recreation based at the North Shore Campus. As a Technician, Lisa manages the department's computer and technology assets for research, education, and administration purposes. She also supports lecturers in a selection of technology-intensive laboratories and workshops, providing technical instructions to students working with force plate technology, high-speed videography or other sports analysis equipment. Lisa enjoys variety in the workplace, and as such, she happily takes on any available lecturing contracts each semester. When Lisa is not wearing her Technician and Lecturer hats, she is an active researcher with her colleagues at AUT. She is also a frequent peer-reviewer of kayaking and rowing publications for a variety of sport science journals. In her free time, Lisa is an avid traveler who enjoys outdoor adventures and community service.
Teaching Areas:
Instrumentation in Sport Science, Biomechanics, Sports Analysis, Statistics, Anatomy, and Physiology.
Research Areas:
Injury and performance biomechanics, sports analysis, rowing, kayaking, and netball.
Current Research Projects:
Low back pain in rowers.
Effect of a new foot-stretcher design on rowing performance.
Effect of feedback on sprint kayaking performance.
Publications:
See Research Gate profile for up-to-date full publication list; Here is a select few:
McDonnell, L.K., Hume, P.A., & Nolte, V.A. 2013. A deterministic model based on evidence for the associations between kinematic variables and sprint kayak performance. Sports Biomechanics, 12, 205-220.
McDonnell, L.K., Hume, P.A., & Nolte, V.A. 2013. Place time consistency and stroke rates required for success in K1 200-m sprint kayaking elite competition. International Journal of Performance Analysis in Sport, 13, 38-50.
McDonnell, L.K., Hume, P.A., & Nolte, V.A. 2011. Rib stress fractures among rowers: Definition, epidemiology, mechanisms, risk factors, and effectiveness of injury prevention strategies. Sports Medicine, 41, 883-901.
Awards:
2009-2011 Vice-Chancellor's Doctoral Scholar
2004 NCAA DII Women's Rowing National Champion, V4+ event, as a rower for Humboldt State University, USA