Sarah-Kate Millar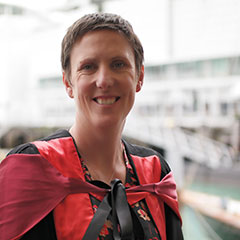 Senior Lecturer - Coaching
Phone: 09 921 9999 x 7667
Email: sarahkate.millar@aut.ac.nz
span class="HeliaCore-Medium">Links webpages:

Qualifications:
PhD (AUT University)
MSc – Sports Coaching ( University of Worcester UK ),
BEd – Physical Education (University of Canterbury),
Diploma of Teaching (Christchurch College of Education)
Teaching Areas:
Skill Acquisition
Sports Coaching
Athlete Development
Research Areas:
Dynamical Systems
Skill Acquisition – Constraints led perspective
Coaches self-awareness and self-reflection
Sport Coaching Pedagogy
Research Summary:
Sarah-Kate Millar is a senior lecturer at the Auckland University of Technology (AUT) in the area of sports coaching and in particular skill acquisition. She is member of the Sports Performance Research Group (SPRINZ), as well as the coaching research group, the sports kinesiology injury prevention and performance (SKIPP) group and the rugby codes research and the leader of the Aquatic Boat Sport Group for SPRINZ. group. Sarah-Kate's primary research focus uses a dynamic systems perspective and a constraints-led approach to understanding and achieving movement change. Her mixed methods approach to answering questions is driven by her desire to complete applied research and she strives to have coaches (and athletes) knowledge included in her work, as well as having research that is representative of performance demands. Areas of research completed by Sarah-Kate are interpersonal and extra personal coordination in rowing, coaches' self-awareness, youth sport dropout, rugby psychosocial development, weight lifting, decision-making and early vs. late specialisation.
Current Research Projects:
Timing in rowing –a dynamical system perspective
Alternative foot stretchers in rowing; a constraints approach
Perception-action, an ecological dynamics perspective
Enhancing coaches self-awareness
Publications:
Millar, S. K. (2016). Rigging: the impact on boat speed; A case study of a male U18 sculler. Oar Sport, February
Millar, S. K., & Oldham, A. R. H. (2016). Using contrast textures to enhance perceptual coupling in High Performance rowing. Sensoria - Contemporary perspectives on applied sports science: technology and performance.
Millar, S. K., Oldham, A. R. H., Hume, P., & Renshaw, I. (2015). Using rowers' perceptions of on-water stroke success to evaluate sculling catch efficiency of biomechanical variables via a boat instrumentation system. Sports, 335-345. doi:10.3390/sports3040335
Millar, S. K. (2015). Athlete and coach agreement on successful rowing performance. Oar Sport, Summer.
Millar, S. K. (2014). Velocity matching and interception: The catching problem in rowing Symposium conducted at the meeting of the Australasian Society for Cognitive Science Conference Melbourne
Millar, S. K. (2014). Timing in rowing – what makes a boat go fast? . Oar Sport, Autumn.
Millar, S. K. (2014). Interpersonal and extrapersonal coordination in high-performance rowing. (Doctoral thesis, Auckland University of Technology, Auckland, New Zealand). Retrieved from http://hdl.handle.net/10292/7560
Millar, S. K., Oldham, A. R. H., & Renshaw, I. (2013). Interpersonal, Intrapersonal, Extrapersonal? Qualitatively Investigating Coordinative Couplings between Rowers in Olympic Sculling. Nonlinear Dynamics, Psychology and Life Sciences, 17(3), 425-443.
Millar, S. K., Oldham, A. R. H., & Renshaw, I. (2012). Interpersonal coupling in rowing : the mediating role of the environment. Journal of Sport and Exercise Psychology, 34(Supp), 110-111.
Millar, S. K., Oldham, A. R. H., & Donovan, M. (2011). Coaches' Self-Awareness of Timing, Nature and Intent of Verbal Instructions to Athletes. International Journal of Sports Science & Coaching, 6(4), 503-513.
Millar, S-K., & Oldham, T. (2009) Who is the most coached rower in an 8+? Oarsport. Winter 2009.
Millar, S. K. (2014). Interpersonal and extrapersonal coordination in high-performance rowing. (Doctoral thesis, Auckland University of Technology, Auckland, New Zealand). Retrieved from http://hdl.handle.net/10292/7560