Enrico Haemmerle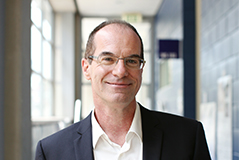 Dean of Engineering
Head of School, Engineering, Computer and Mathematical Sciences
Phone: +64 9 921 9242
Email: enrico.haemmerle@aut.ac.nz
Physical Address:
Auckland University of Technology
School of Engineering, Computer and Mathematical Sciences
WT106, WT Building (AUT Tower)
2-14 Wakefield Street
Auckland
Postal Address:
Auckland University of Technology
School of Engineering, Computer and Mathematical Sciences
Private Bag 92006
Auckland 1142
Auckland
Qualifications:
Dr.-Ing.
(PhD in Production Technology)
Bremen;
Dipl.-Ing.
(ME in Automation Technology)
Bochum;
Dipl.-Ing.(FH)
(BE in Mechanical Engineering Design)
Offenburg
Biography:
Enrico Haemmerle's interest in mechanical devices began early when he would help his father dismantle old cars and tinker with all things mechanical.
Perhaps his parents foresaw where his future lay. Growing up in Germany meant you had to pick your educational path when you were 10. He chose an apprentice route, meaning he would leave school at 16 and learn a trade. He did this in precision mechanics and enjoyed it so much he went back to school so that he could enrol in a mechanical engineering degree at a university of applied science, followed by an automation technology degree at the University of Bochum. On completion he accepted an industry funded fellowship to work and research at a Research Institute to undertake his PhD.
Professor Haemmerle brought his family to New Zealand in 1993 and worked at the University of Auckland for almost 20 years, starting as a lecturer in Mechanical and later Mechatronics Engineering and finishing as the Associate Dean Research in the Faculty of Engineering.
He moved to AUT as the Head of Engineering in November 2013 because he saw an opportunity to grow the school and collaborate across various design and technology subjects. In late 2015, the schools of Engineering and Computer & Mathematical Sciences amalgamated and Professor Haemmerle took on the role of leading the new school. He says the fields complement each other, and the amalgamation will provide a point of difference to other universities in New Zealand.
Research Areas:
Research
Professor Haemmerle has an interest in design and innovation and he has over the last eight years designed medical device prototypes using novel sensor technologies for use in neonatal volume controlled resuscitation, blood mixing, intravenous flow control and tube feeding.
Publications:
Milsom, S. A., Sweeting, J. A., Sheahan, H., Haemmerle, E., & Windsor, J. A. (2015). Naso-enteric Tube Placement: A Review of Methods to Confirm Tip Location, Global Applicability and Requirements. World Journal of Surgery, 39(9), 2243-2252. doi:10.1007/s00268-015-3077-6
Devaraj, H., Travas-Sejdic, J., Sharma, R., Aydemir, N., Williams, D., Haemmerle, E., . . . Aw, K. C. (2015). Bio-inspired flow sensor from printed PEDOT:PSS micro-hairs. Bioinspiration and Biomimetics, 10(1). doi:10.1088/1748-3190/10/1/016017
McDaid, A. J., Aw, K. C., Xie, S. Q., & Haemmerle, E. (2013). Robust control of a cell micro-manipulation system with IPMC actuators.. IJISTA, 12, 156-174. doi:10.1504/IJISTA.2013.056208
McDaid, A. J., Haemmerle, E., Xie, S. Q., & Aw, K. C. (2013). Design, analysis, and control of a novel safe cell micromanipulation system with IPMC actuators. Journal of Mechanical Design, Transactions of the ASME, 135(6).
Zhang, L., Seidel, R., Shahbazpour, M., & Haemmerle, E. (2013). A three-dimensional innovation process capability assessment tool. Proceedings of 2013 6th International Conference on Information Management, Innovation Management and Industrial Engineering, ICIII 2013, 3, 151-155.
Tjahyono, A. P., Aw, K. C., Devaraj, H., Surendra, W., Haemmerle, E., & Travas-Sejdic, J. (2013). A five-fingered hand exoskeleton driven by pneumatic artificial muscles with novel polypyrrole sensors. Industrial Robot, 40(3), 251-260.
MCDAID AJ, AW KC, HAEMMERLE E, XIE SQ, 'Control of IPMC Actuators for Microfluidics with Adaptive 'Online' Iterative Feedback Tuning', IEEE/ASME Transactions on Mechatronics 17(4):789-797 2012.
JACQ, C; MAEDER, T; HAEMMERLE, E; CRAQUELIN, N; RYSER, P. 'Ultra-low pressure sensor for neonatal resuscitator', Sensors and Actuators A: Physical, doi:10.1016/j.sna.2011.03.052, 2011.
ABDUL KADIR, A; XU, X; HÄMMERLE, E. 'Virtual machine tools and virtual machining - A technological review', Robotics and Computer-Integrated Manufacturing, 27, (3), p494-508, 2011.
LEUNG, M., HAEMMERLE, E., HODGSON, M.A., CHEN, W., GAO, W. 'Tip deflection calculations of small-diameter thin-walled piezoelectric tubes', Ceramics International, 35, (6), p2409-2414, 2009
D. CHENG, S. Q. XIE, E. HAEMMERLE "Local Descriptors based on color images", International Journal of Information Acquisition, Volume 6, Issue 4 (2009) pp. 281-301,Volume: 6, Issue: 4(2009) pp. 281-301, DOI: 10.1142/S0219878909002004
SEIDEL, M.C., SEIDEL, R.H.A., TEDFORD, J.D., WAIT, A.L., CROSS, R.J.W., HAEMMERLE, E. 'Overcoming Barriers to Implementing Environmentally Benign Manufacturing Practices: Strategic Tools for SMEs', Environmental Quality Management, Spring, p37-56, 2009
HAEMMERLE, E., LEUNG, M., RAZAK, K.A., HODGSON, M.A., GAO, W. 'Piezoceramic Switches for Optical Fibres', Key Engineering Materials, 352, p271-276, 2007
WINTON, P., HÄEMMERLE, E., 'High Resolution Position Estimation using Partial Pulses'. Electronic Letters, Vol. 36 No 10, 897–898, May 2000.