National Sport Club Survey (NSCS)
Since 2018, the National Sport Club Survey (NSCS) has generated insights about the management and operations of New Zealand's community sport clubs.
The NSCS is run as a partnership between AUT SPRINZ and the New Zealand Amateur Sport Association (NZASA). Every sport club in New Zealand is invited to participate in this annual project. That now includes more than 7000 clubs across 90 sports and all 16 regions of New Zealand.
The multi-sport, nationwide focus on clubs as organisational entities complements other projects which capture the perspective of single sports, single regions or individuals as participants.
Membership size/trends, financial performance, governance metrics and more are being tracked annually. Specific annual themes also feature.
Insights are disseminated through regional workshops (often in partnership with RSTs), social media infographics, sport/region info sheets and more.
We work with NSOs, RSTs, RSOs and others so that NSCS insights can be used for a variety of strategic purposes.
NSCS Insights have been presented at the conferences of the Sport Management Association of Australia & New Zealand (SMAANZ) and the European Association of Sport Management (EASM). The New Zealand Herald, Otago Daily Times, Radio New Zealand and others have reported on NSCS insights.
Contact us
Mel Johnston (melody.johnston@aut.ac.nz)
Follow us on twitter: @NSCS_NZ
2021 NSCS
The 2021 NSCS was open from 19 August – 3 September and almost 1200 clubs engaged from across the whole country.
Initial Insights indicate that most clubs are surviving the lockdowns, but engaging women and girls remains a work in progress. Check the Documents section on this page for ongoing release of insights.
Themes
Women and Girls
Diversity and Inclusion
Performance Pathways
The 2020 NSCS was delayed by two weeks as a result of COVID-19 restrictions. 1187 clubs responded capturing the experience of about 200,000 Kiwis.
2020 themes were COVID-19 Impacts, Resilience, Innovation and regional workshops were held in West Auckland, New Plymouth, Hamilton.
Selected insights
In the midst of 2020 COVID-19 lockdowns, more than 90% of clubs reported they would be "shortly back to normal" or "make it through"
The larger a club's budget, the fewer women involved in leadership
40% of clubs reported innovation from the past 12 months, often related to partnerships or technology
In 2019, the NSCS club database was first developed with the goal of having an email address for every club in New Zealand. 787 sport clubs across all of New Zealand's 16 regions took part in the research.
2019 themes were Commercialisation, Amateurism and regional workshops were held in Auckland (North Shore), Wellington, Christchurch, Dunedin.
Selected insights
Many clubs of over 200 members are growing, while those less than 100 are shrinking
The optimal tenure for board/committee members in a sport club is no more than 5 years
At 43%, there are more women involved in club governance than at higher levels within the sector, but just 9% are under less than 30 years old
The project launched in 2018 with a total of 172 clubs, across 16 sports from around the country participating. Clubs were invited from a list of incorporated societies.
Regional workshops were held in South Auckland.
Selected insights
Only half of community sport clubs report having a strategic plan
78% of clubs reported either stable or increasing membership
Most clubs have a "home" consisting of land and/or facility
Sport community feedback on the NSCS
"We are a bit light on insights where we can measure and compare management and performance with other sports codes"
North Island Gymnastics Club
"(The NSCS) could help to reinforce and complement our Active NZ and VoP data"
South Island Regional Sport Trust
"Thanks for presenting (at the regional workshop). I look forward to sharing insights with our member clubs"
North Island Regional Sport Organisation
"The data collected is awesome and would definitely be useful to us on a larger scale"
North Island Regional Sport Trust
"This is a great opportunity and I'm always grateful when organisations with specific expertise make things available that support sport so well"
National Sport Organisation
"We run some annual research here covering similar topics but… the club picture would be valuable to support our local insights and knowledge"
South Island Regional Sport Trust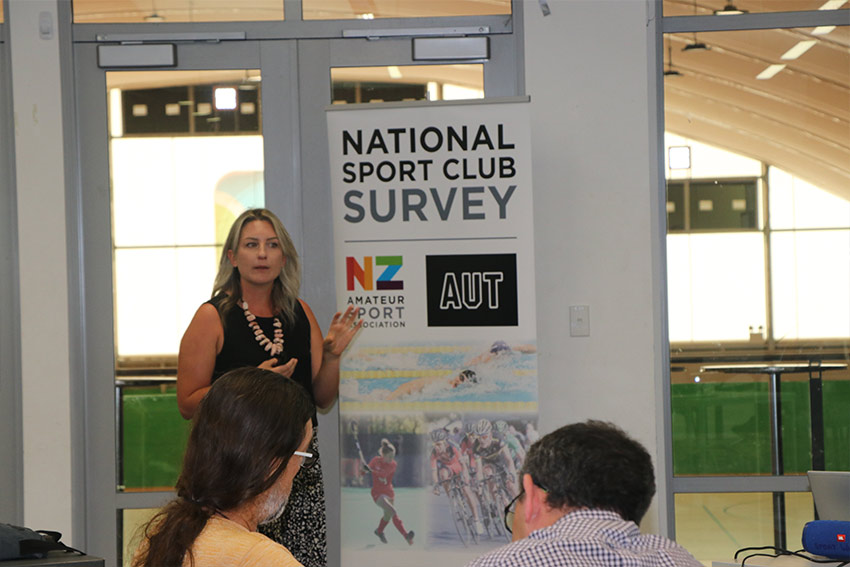 Dr Mel Johnston at the 2020 NSCS regional workshop in partnership with Sport Waitākere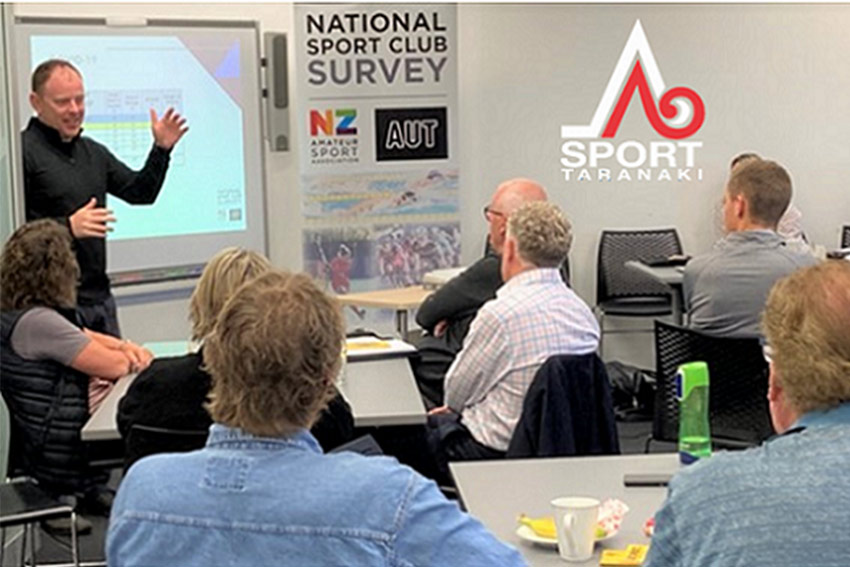 Dr Michael Naylor at the 2020 NSCS regional workshop in partnership with Sport Taranaki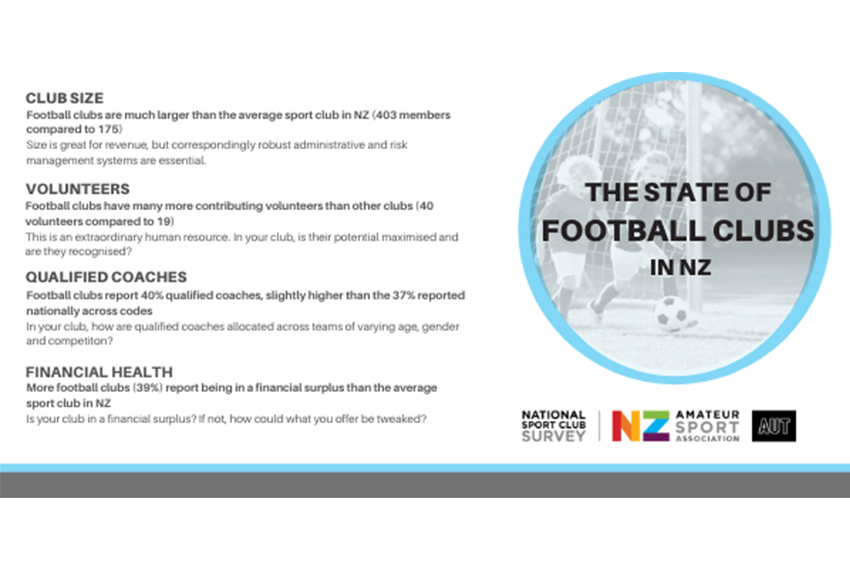 A 2020 NSCS infographic for NZ's football community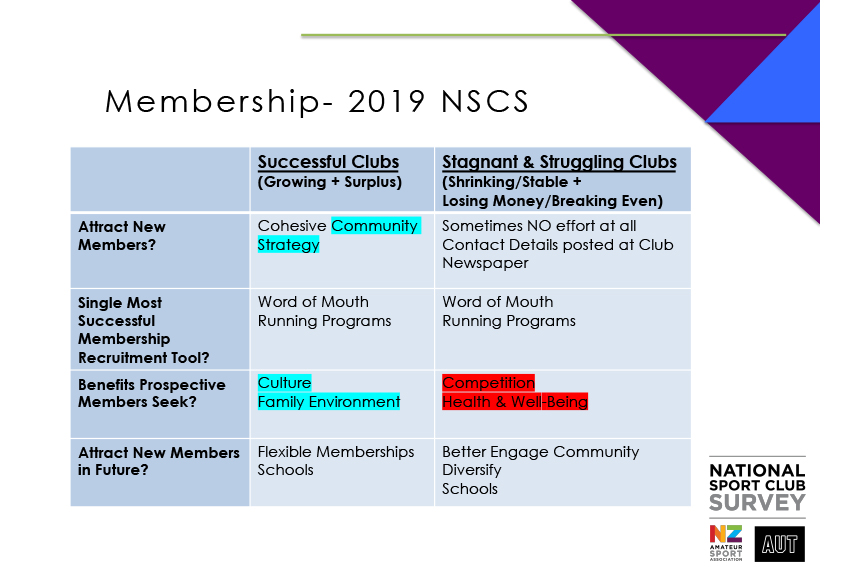 2019 NSCS – Attracting Members: Membership Trend + Financial Position

Our people
Michael Naylor
Research lead, AUT
Mel Johnston
Research lead, AUT
Gordon Noble-Campbell
Project partner, NZASA
Katharine Hoskyn
AUT PG Student
Amber Campbell
AUT PG Student
Daniel Martin
AUT PG Student
Geoff Dickson
SPRINZ research associate
Hannah Cartman
'21-'22 Summer Studentship
Documents
*From 2020 Insights disseminated via infographics and other means