Melissa Cuthbertson-Moon
Research specialisation
Gym based strength training technique for injury prevention.
Thesis title
The "digital gym instructor" – a digital tool to improve an individual's movement patterns.
Supervisors
Professor Patria Hume (AUT), Dr Hannah Wyatt (AUT), Bryce Hastings (Les Mills International), Isaac Carlson (ACC), Dr Stacy Sims (advisor).
Experience
Melissa is from Newcastle in the UK; and prior to her PhD has 13 years of research and development experience. Melissa is a personal trainer, group exercise instructor and mentor to other instructors. Melissa has always had an interest in sport and exercise and is passionate about improving gym participant technique and movement patterns to prevent injuries in the gym and group exercise environment.
Research overview
Melissa's research aims to trial the feasibility of a 'digital gym instructor' for improving an individual's movement patterns with the potential to reduce injury risk from improved technique. This has the potential to reduce the injury burden to gym-goers and to reduce the financial cost of rehabilitation to ACC. The research aims to contribute to the development of a FitSmart program to reduce the incidence, severity and cost of injuries and enable New Zealanders to remain active.
Details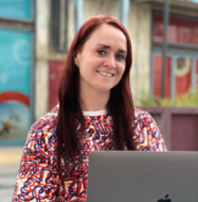 Melissa Cuthbertson-Moon
BSc (Hons), MSc, PhD candidate AUT SPRINZ (2021-2025)
Email jhy8774@autuni.ac.nz